About
Dieter Luske (Lüske - Lueske) is a writer who enjoys life and life's journey. He loves working with Giselle, his wife, in their enchanted organic garden, dabbles in art and music and consults on holistic health and lifestyle topics.
Dieter is the author of 3 books and has published hundreds of holistic lifestyle philosophy articles and lives by his motto. "By attempting the impossible - one is meaningfully occupied (D.L.).".
BIO: Dieter Luske is the author of "Do you believe in You? A self-help book which resulted from 11 years of consulting and facilitating mind management seminars.
Dieter graduated in 1981 in Naturopathy, Homeopathy, Medical Herbalism, Clinical Nutrition, Lifestyle counselling, Medical Hypnosis and NLP.

In 1999, Dieter founded useNature.com, a Holistic Natural Health and Lifestyle Directory, which has been the primary Natural Health Directory up to 2010 and still to this day is a significant go-to website for holistic health articles, most of them written by Dieter.
Born and educated in Germany, Dieter studied Electrotechnics and Electronics, graduated as the youngest ever with a Master's degree and had his first business at age 21. A few years later he realised there is more to life than just earning a living. In 1974 Dieter and Giselle left Germany on a two-and-a-half-year discovery tour. During that time, they lived and travelled throughout Australia in a panel van and wrote stories about their travels for German magazines.
Dieter's new book, "It happened in the Seventies", revisits that exciting time and focuses on those life-changing events. - Additional photos from the seventies -
Dieter and his wife Giselle have cooperated on various book projects, such as Blended For Itensive Flavour and the The Bearborn Dynasty, both available as "print on demand" books.
A Memoir of Love, Colliding Worlds and a House on a Hill
An intriguing story of personal risk-taking, self-discovery and profound change.
...available as e-book - paperback & hard cover
An inspiring read of a life-changing escapade Down Under

Phil Brown – Arts Editor – The Courier-Mail
Signed Copy? - If you would like a signed copy, please contact Dieter Luske with your details, including mailing address.

Book, including postage within Australia is 33.95
---
------> Dieter's next Book, "Chaos in Brainland" is on its way.
---
Giselle, artist, and Dieter live and work on their Gold Coast Hinterland 5 Acre beautiful property, surrounded by organic gardens, an art studio and love and harmony.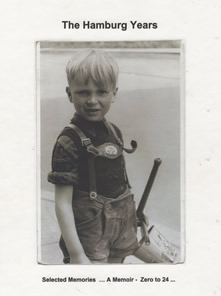 The Hamburg Years, has been published away from prying eyes. - Not available for the public.